Curriculum Vitae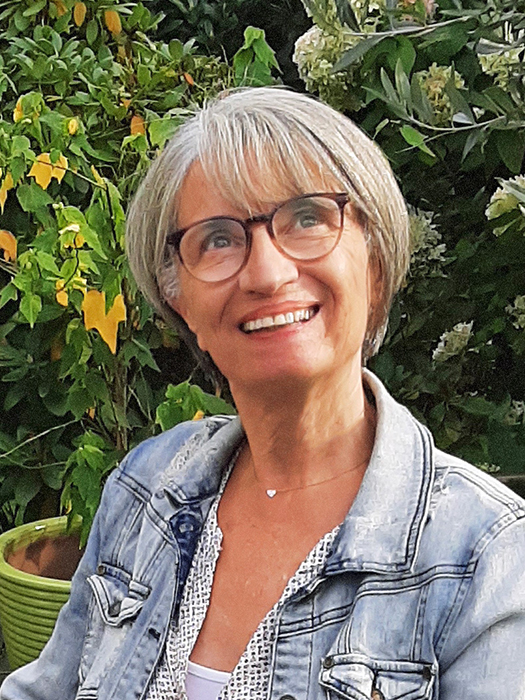 Mouna Ramcke
---
She was brought up in Paris and Toulouse, France. After high school she went to England where she received a grant from the Hampshire Authorities and started her studies at the university of Portsmouth . She completed her Bachelor of Arts with Honours in 1980.
She took her Master at the same time as a teaching assistantship at the University of British Columbia, Canada. Dr. Anne Scott and Dr. Claude Bouygue were her tutors and the supervisors of her theses.
She participated to many workshops and seminars in Berlin and Hamburg.
From 1999 till 2007 Mouna Ramcke opened her atelier-gallery "Aqua-Art" to the public. There she also held art classes for adults.
Mouna found in 2008 a new location for her atelier were she works and gives art lessons.
---
Education
| | |
| --- | --- |
| 1972 | Baccalauréat (A-Level) Paris |
| 1973 – 1976 | Techn. college, Southampton, proficiency in the English language |
| 1976 – 1980 | Bachelor of Arts, with honours, Portsmouth, England |
| 1980 – 1983 | Master of Arts, UBC Vancouver, Canada |
| 1989 – 1991 | Association des Beaux-Arts, Chatou near Paris |
---
Additional training Art Schools in Germany
Kunstakademie (Academy of Art) Bahrenfeld, Hamburg
Freie Kunstakademie, Berlin (with Ute Wöllmann, former Master Student of Professor Georg Baselitz)
Summer academie Venice
In 2000 she created a project, "Pont des Arts", (Bridge of the Arts) allowing an exchange between French and German artists. The project was supported by the French consulate, the regional parliament of Schleswig-Holstein and the European parliament in Strasburg
---
Awards
Robert-Bosch-Foundation for the project: "Pont des Arts" (Bridge of the Arts)
Price winner international Summer-academy of fine arts and media Venice
---
Exhibitions
Group exhibitions
| | |
| --- | --- |
| June 2019 | NordArt, international Art exibition, Büdelsdorf |
| Aug. 2017 | Kunsthuset Det gamle Havnekontor Haderslev, Danmark. Deutsch-dänische Freundschaft, 250 Jahre Drostei Jubiläum |
| July 2017 | Regionalschau, Drostei Pinneberg, Kooperation mit dem Flensborg Fjords Kunst & Kulturforeing |
| June 2016 | Association des artistes-peintres, Paris |
| Sept. 2014 | Kulturhof Itzehoe |
| Jan. 2014 | HamburGGalerie, Hamburg |
| July 2013 | Venedig Palazzo Zenobio |
| July 2013 | Regionalschau Landdrostei, Pinneberg |
| July 2012 | Venedig, Palazzo Zenobio |
| May 2011 | Galerie im Levantehaus, Hamburg |
| Feb. 2010 | "Mousquet'Arts", Art Gallery, Hamburg |
| Aug. 2007 | Galerie am Fleet, Hamburg |
| Aug. 2007 | Galerie Udo Lindenberg & More, Hamburg |
| Okt. 2006 | Messe Hanse Art, Hamburg |
| May 2006 | "Salon des Indépendants", Paris |
| Mar. 2006 | "Unterwegs" (on my way), Museum Langes Tannen, Uetersen |
| Jan. 2004 | International exhibition, Meerbusch, Nordrhein Westfalen |
| May 2003 | "Pont des Arts", Husum, Germany |
| Sept. 2002 | Technologiepark Hamburg |
| June 2002 | Bagnols-sur-C, France |
| April 2002 | "Pont des Arts", Rendsburg |
| Feb. 2002 | "Pont des Arts", foundation Landdrostei' cultural center Pinneberg, Germany |
| Sept. 2001 | Galerie Feret, Avignon, France |
| July 2000 | Foundation Landdrostei, cultural center Pinneberg |
Solo and duo exhibitions
| | |
| --- | --- |
| Mar. 2018 | Temporary Gallery, Pinneberg |
| Sept. 2015 | Behling Austellung, Rellingen |
| Aug. 2014 | Temporary Gallery, Pinneberg |
| Okt. 2011 | Hotel Bellevue, an der Alster, Hamburg |
| Jule 2011 | Galerie Dax, Föhr |
| Sept. 2005 | "Bilding bridges between cultures", Kursane, Wedel near Hamburg, Germany |
| Nov. 2005 | "Wind, water & colour", A. Beig Verlag Pinneberg, Germany |
| Sept. 2005 | "France our guest", Rotunde, Timmendorfer Strand on the Baltic Sea |
| Feb. 2005 | Advisor Enterprise, Hamburg, Germany |
| Jan. 2003 | Technologiepark, Hamburg, Germany |
| Feb. 2001 | Nordakademie, Elmshorn, Germany |
| Dec. 2000 | Hotel Radisson, Hamburg (Ernst Deutsch Theater:"Frankreich ist Gast") |
| July 2000 | European Parliament, Strasbourg, France (Duo) |
| April 2000 | Landeshaus Kiel (regional parliament), Germany (Duo) |
---
Art works in public institutions
Nordakademie, Elmshorn: "Diagonale", 100 x 200 cm
Collection of the foundation of the Kreissparkasse Südholstein (regional bank): "Schau um die Ecke", 100 x 50 cm; "Am Abgrund vorbei", 100 x 50 cm; "Provence", 100 x 80 cm
Reha-Zentrum, Schenefeld: "Welle", 100 x 160 cm
---
Illustration
Book-cover "Management und Soziale Arbeit", Faculty for Social Affairs, University of Niederrhein, ISBN 3-933493-16-1